A recent survey shows that large companies report a significantly higher need for strategy capabilities compared to small businesses.
Earlier this year we surveyed business leaders across our global client base to understand the actions they are taking to return to growth and how their talent needs have changed as a result of Covid. (A collaboration between The Barton Partnership and Independent Consultant Tal Potishman). Amongst other roles, the results show that 15% reported higher needs for corporate strategy and strategic planning roles.
Following the pandemic, which disrupted possibly every industry, it is not surprising that businesses need to re-evaluate their strategy, to account for the rise of digital channels and the changes in work patterns, among other aspects.
​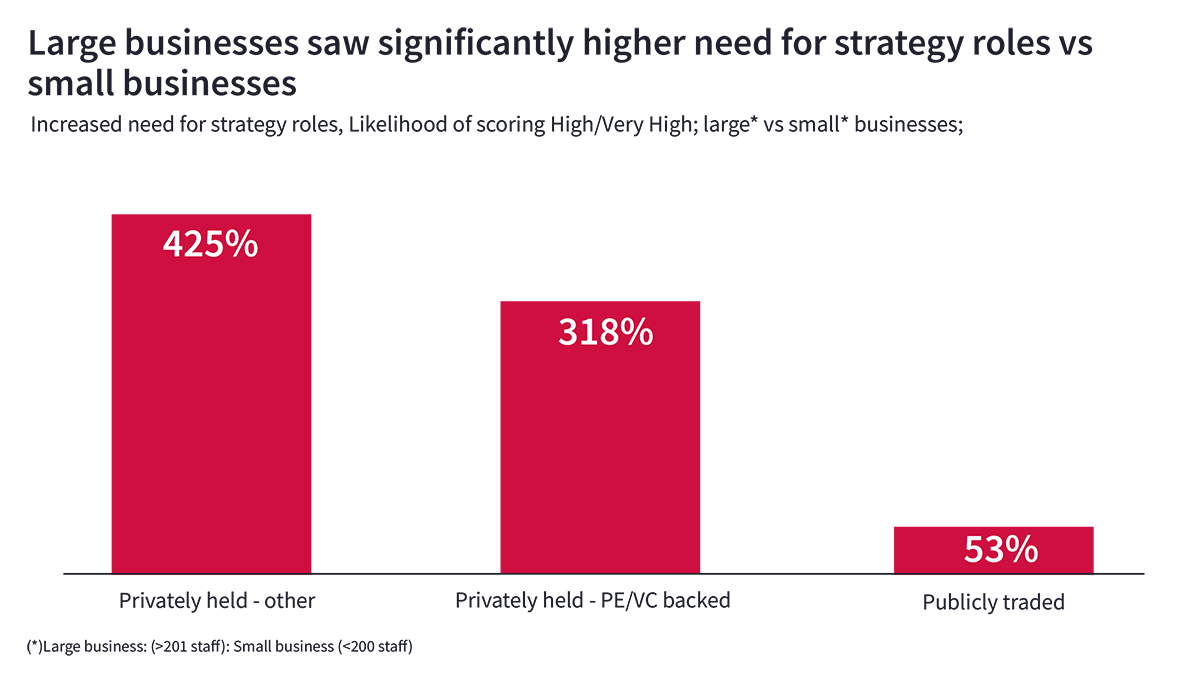 ​
Private Companies: Significantly Higher Focus on Strategy Roles
Both small companies (less than 200 employees) and large companies (more than 200 employees) recorded increased need for strategy roles. Of particular interest, however, was the gap between private and public companies. For publicly listed companies, the gap between large and small companies was only 53%. However, for PE/VC backed and other privately held companies the gap was significantly wider, at 318% and 425% respectively.
There are some potential drivers for this remarkable gap in perceived need for strategy roles between large and small companies and between private and public companies. As companies adjust to the new reality, they see the need for strategic thinking to plot a way forward. However PE backed and other private companies have identified the need to change and accelerated faster out of the blocks, which translates to a yet faster pull for strategic re-alignment and rethinking.
This finding chimes with our previously published research that private companies are much more likely to be aggressive fast movers in re-shaping their strategies and business models following the Covid 19 crisis.
This insight raises a number of interesting questions for executives:
Against a backdrop of an uncharted strategic territory, are you moving fast enough to re-evaluate your strategic direction?

Now that the initial shock of the pandemic-induced recession is behind us, how well is your plan laid out to address your weaknesses and take advantage of opportunities that are bound to emerge?

With increased need for strategic planning, what is your plan to attract the best talent and give them the best platform to help your business accelerate?
​