​A recent survey of global executives shows where management focus will shift in order to win in the "New Normal."
In a survey of 269 global business leaders, many of whom sit on their company's Covid-19 crisis team, we found that sustaining revenue through winning new business, managing costs and developing new products/services are the top issues on executives' minds in the short term. However, over a 12-month horizon, we saw priorities evolve as businesses prepare for a 'New Normal'.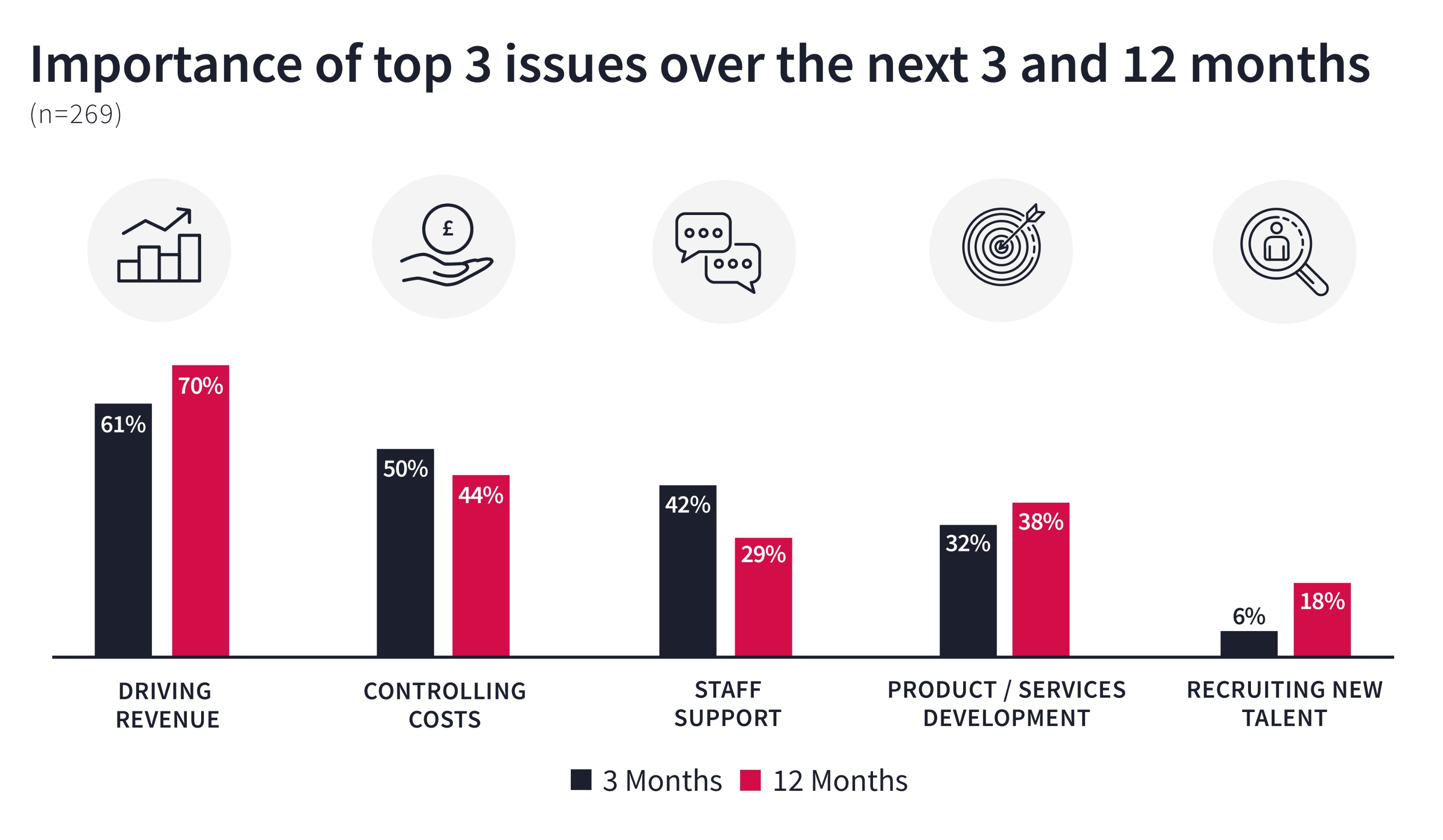 As broadly expected, our survey shows that businesses are focused in the near-term on driving revenues (61% of respondents selected this as one of their top 3 priorities), controlling costs (50%) and supporting their staff during the challenging days of the Covid-19 lock down (42%). However, it is striking that over a 12-month horizon revenue building becomes the clear priority (70%) and the need for new talent triples in importance (to 18%). As lock down is gradually lifted, focus on supporting staff shifts to other priorities - emphasis on developing new products and services increases (to 38%), as many companies recognise that customer needs and budgets are rapidly changing.
Interestingly, we discovered that private companies are 76% more likely than public companies to emphasise the need for new talent over a 12-month horizon. This finding chimes with our previously published research that private companies are much more likely to be aggressive fast movers in re-shaping their strategies and business models.
These findings raise several interesting questions for executives:
Agility in product and service development - In a rapidly changing market, are you taking aggressive enough action to re-design your product offering?

Adaptability to changing circumstances - As your business moves past responding to the initial shock, how thought-out is your action plan to grow revenues in a rapidly changing market?

Talent and capabilities - In a new and uncertain normal, what is your plan to attract the right talent and give them the confidence to move jobs?
In summary, the battle grounds will evolve over the next 12 months, and the time for action to win the war for new customers and new talent is now.
About the study:
A collaboration between The Barton Partnership & Independent Consultants Tal Potishman and Aneil Rakity, this insight is based on a cross-industry survey of 269 global senior business executives conducted during April and June 2020.